In the 1990s and early 2000s, staff and volunteers created exhibits and programs representing Burnaby, with emphasis on the 1920s.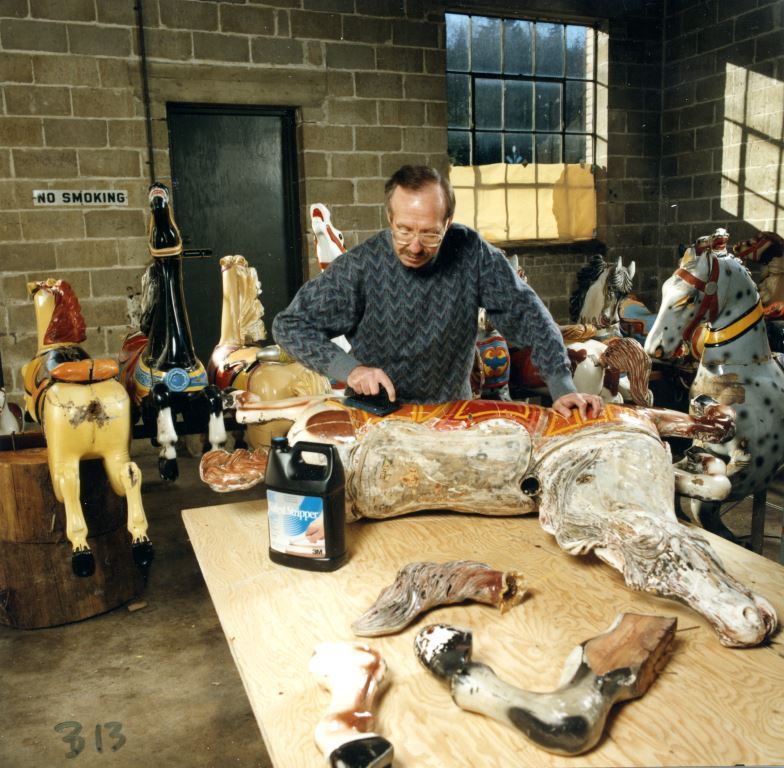 Keith Jamieson, of the Friends of the Carousel, stripping paint from one of the Parker carousel horses during restoration, 1990. BV015.41.12.
Memorable Milestones:
In 1990, the Municipality of Burnaby took over operation of Burnaby Village Museum from the CPMA. The Museum's new entrance opened that year, at the Administration Building across Deer Lake Brook.
After Museum staff had moved their offices into the Administration Building, the 1922 home of the Bateman family (Elworth) was available to become part of the Museum's exhibits. Work began on restoration of the interior in 1991, and continued into 1992.
In 1993 the C.W. Parker Carousel was officially opened, housed in the newly constructed Don Wrigley Pavilion.
In 1996 the Home Bakery exhibit opened, as well as Bell's Dry Goods.
In 2000, the museum opened its "Stride Studios" temporary exhibit gallery, allowing for temporary exhibits that explored topics beyond Burnaby in the 1920s to be featured as part of the visitor experience.
In 2001, the Museum's 1912 B.C. Electric Railway interurban tram was moved offsite to a warehouse, where it would undergo a 5-year restoration project by the Friends of Interurban 1223.
The barbershop exhibit opened in 2001.